Calling all chess players!!!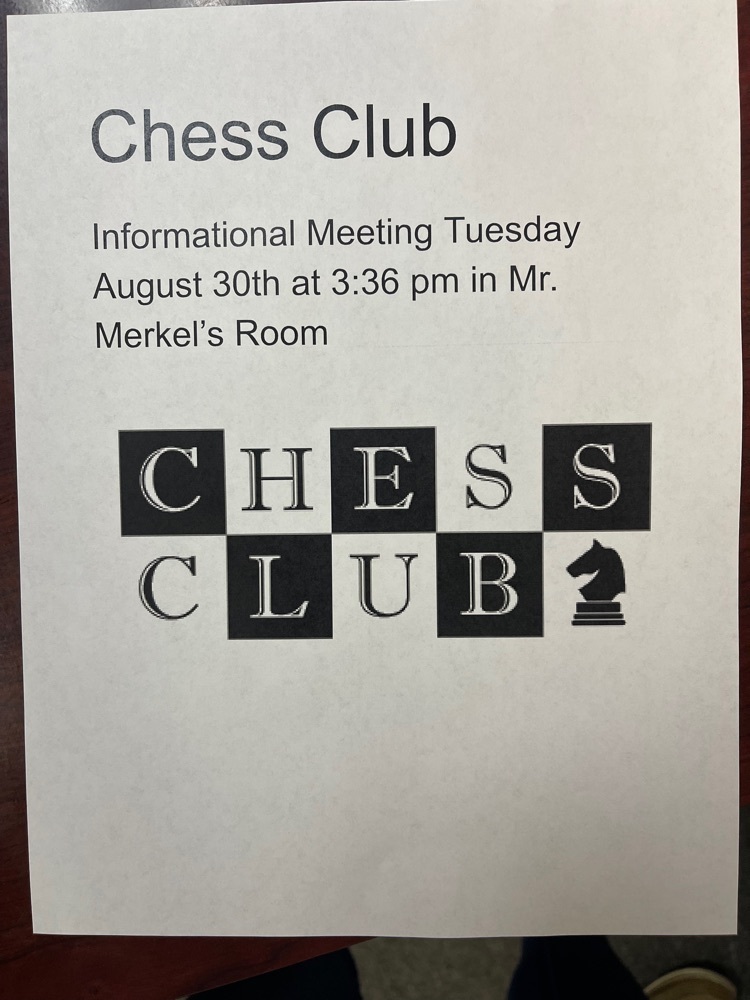 Reminder today August 10th is Registration for k-12 students!! 8:30am to 11:00am and then again 4:00pm to 6:00pm Hope to see you all here!!!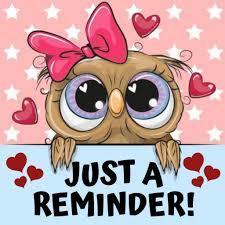 Attention all parents/guardians/students: Once again the school will be supply all basic school supplies for our students!!!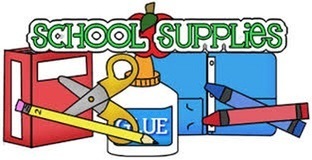 With the 2022-2023 School Year right around the corner we are wanting to invite all Parents/Guardians and students to our Back-to-School BBQ. With things finally going back to "normal" we will be holding a brief meeting in the gym to discuss our student handbook and changes that will be enforced in the coming school year. We strongly recommend all Parents/Guardians/Students attend this event. BBQ Information: August 17th, 2022 4:30pm------ 2022-2023 School overview in the Gym, food will be served after.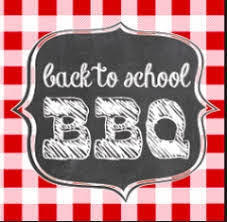 Mark your calendars for AUGUST 22, 2022 for our first day of school!! Early Bell- 7:45am 1st Bell- 7:58am Tary Bell-8:01am Elementary Hours: Kindergarten- 8:00am to 2:50pm 1st,2nd,3rd Grade- 8:00am to 2:50pm 4th and 5th Grade- 8:00am to 3:35pm HS-MS Hours: 8:00am to 3:35pm Regular School Day Lunch: 12:02pm to 12:32pm Activity Schedule Lunch(every second monday): 11:42am to 12:47pm **Please remember Elementary students eat breakfast in their classrooms. **MS/HS students must enter through the cafeteria doors for breakfast. **Students are to stay in the cafeteria until 7:45am.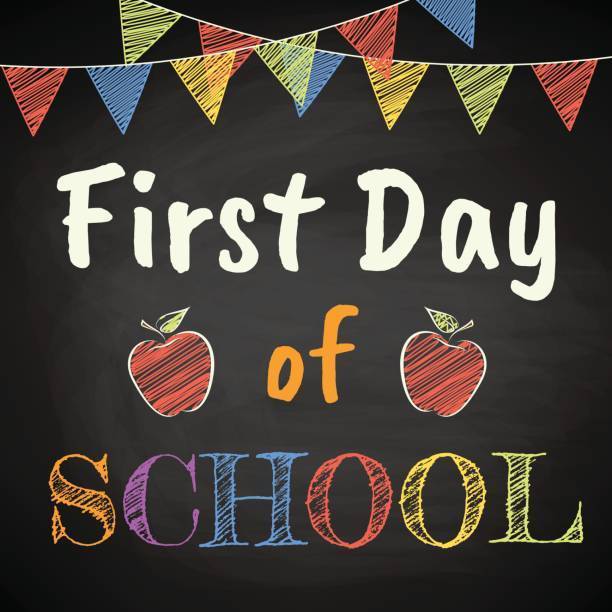 Attention Students/Parents/Guardians: Can you believe it's almost time for the new school year!? Below is registration information for the upcoming year: August 10, 2022 Morning Time: 8:30am to 11:00am Evening Time: 4:00pm to 6:00pm Elementary Registration will be held in the Elementary classrooms in the morning time BUT will be held at the office for the evening time. MS/HS Registration will be held at the office for both time frames. IF your child is a returning student I have most of their forms filled out and will just need it to be approved along with 2 other forms that must be filled out. Remember students: All elective classes are first come, first serve!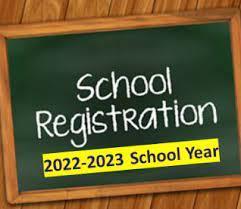 Attention Huntington Parents/Students: Below is some information about a basketball camp that will be held here at the Huntington School Gym. This is for grades 3rd to 12th only. Please know that because our students are local the admission fee is $100 per student for the week. The first day will be August 8th at 9:00am Please wear appropriate clothing and have gym shoes as we just re-did our gym floor. For any questions please see the flyer below.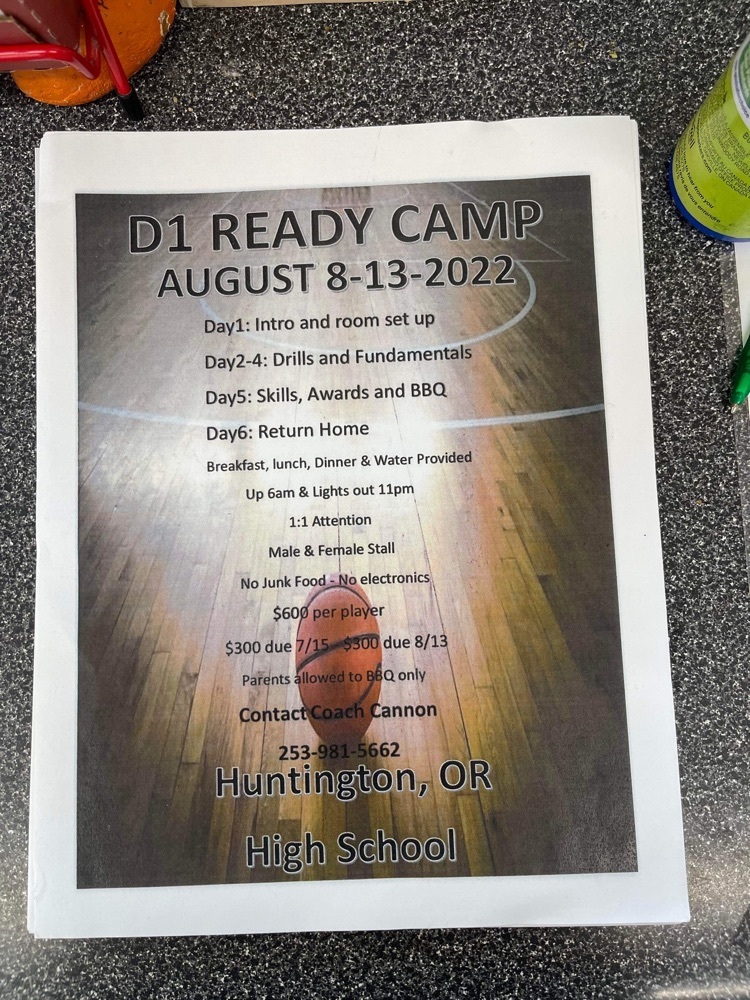 Huntington Students, Parents and Guardians, Due to recent events we wanted to let our students know that if they are needing to speak to a counselor they can contact the school at 541-869-2204 and we are able to set them up with someone from the ESD.
Hope you all are having a fantastic summer!! We have come across some shoes that are missing their people!! If any of these belong to you please come by the school Monday-Thursday in the am to take them back home!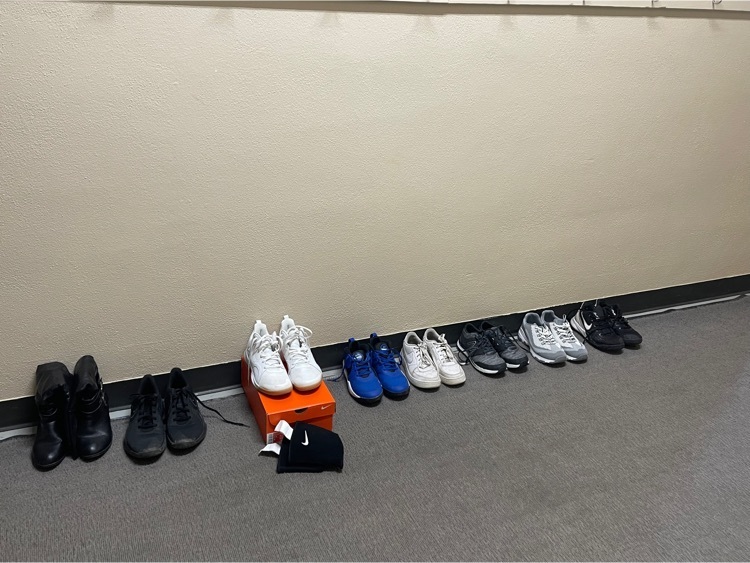 Thank you all for an awesome school year!!! Hope you all have an amazing summer and can't wait to see you all next fall!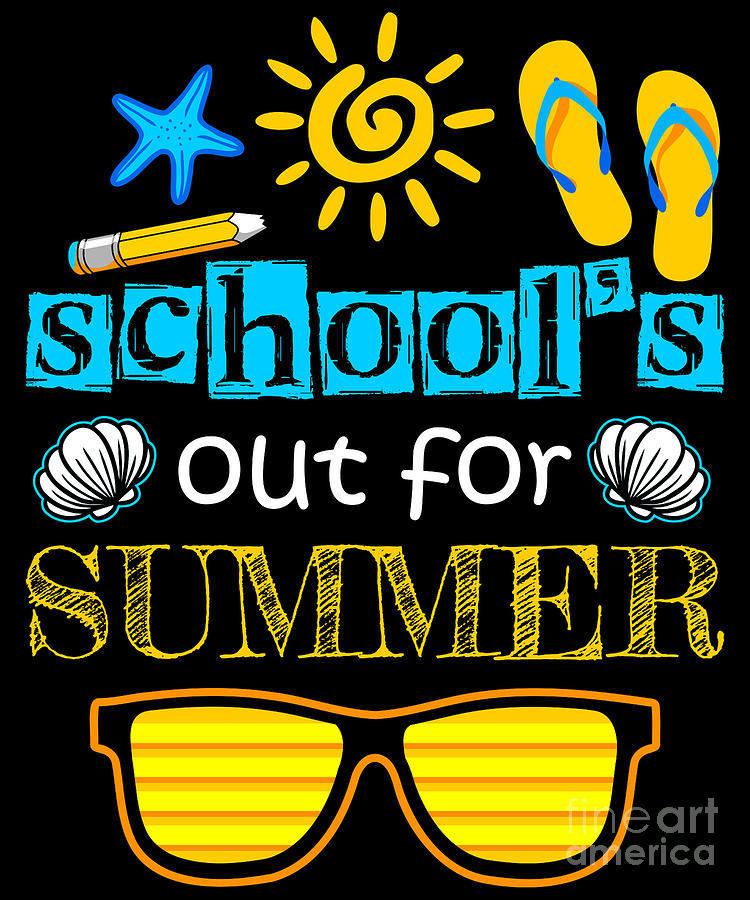 ATTENTION PARENTS: The elementary school will be back in Huntington at 3:30pm.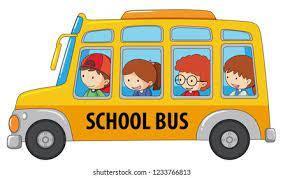 Today at 2pm in the Huntington School Gymnasium we will be hosting Graduation for these 7 amazing young adults. We are so proud of each and everyone of them!! Congratulations you guys did it!!! Following graduation at approximately 3pm we will be having our graduation parade. It will be our usual route.
Attention Parents/Guardians: We are happy to announce we will be having summer school again this year!! Elementary students should of brought home their slip last night and Middle/High School students can grab a copy from the front office!!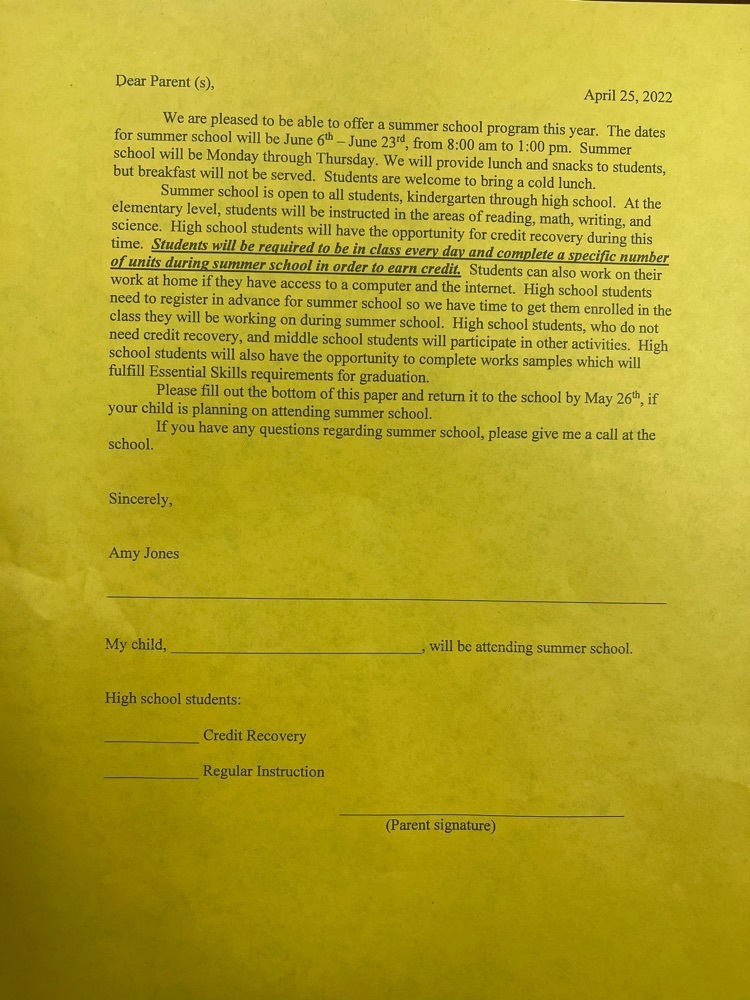 The freshman class are selling Krispy Kreme DONUTS!!!! $12 for a dozen or $12 for a certificate to any Krispy Kreme near you!!!! Donuts will be delivered June 1st 🍩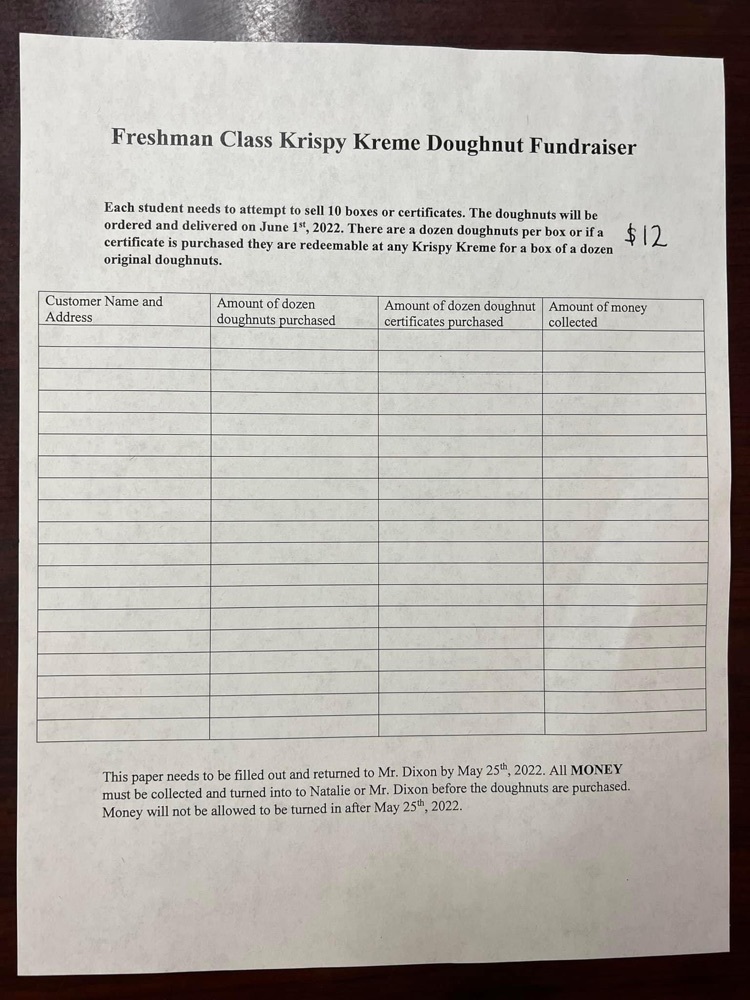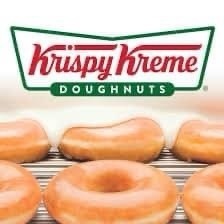 Come support our students and staff members this Wednesday and Thursday as they compete in a 3 on 3 Basketball Competition. We will have concessions for sale and it's free to come cheer!! Wednesday we will start at 12:30pm and will end around 3:35pm Thursday we will start around 1:15pm and will end around 3:35pm
TONIGHT at 5:30pm we will be serving up Hamburgers and Hot Dogs with bag of chips and a drink to the community by the cafeteria. Come fill out a survey, grab a ticket and get dinner! **while supplies last 7:00pm enjoy the HS Drama class perform their play written by Michael Tyner. **Sophomores will be selling desserts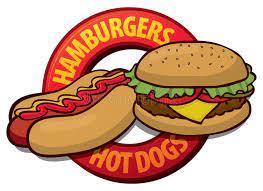 Tonight starting at 7pm our HS Drama class will be putting on their annual play!!! Come out and enjoy the show!!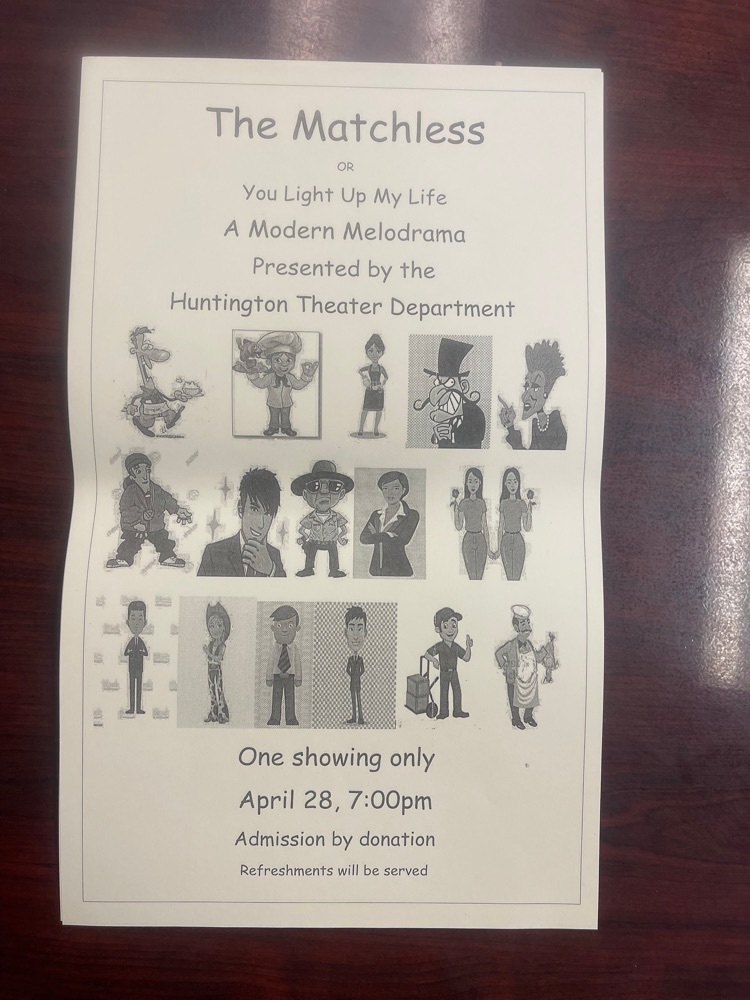 Just a reminder that this coming Saturday April 16, 2022 from 11am to 2pm our Junior class is hosting their Chicken BBQ at the school down by the cafeteria. Tickets can be purchased for $8 at the event. If you have already purchased tickets please remember to bring them. A big THANK YOU to our community for supporting our students.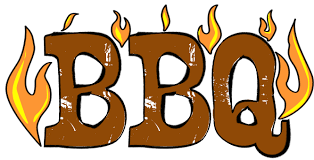 The Sophomore Class are selling these super cool shades just in time for summer! $3 for the black frames/lens that say 💛 locos rock $5 for the black frames with the locos mascot and HHS on the lens Contact a sophomore today!!!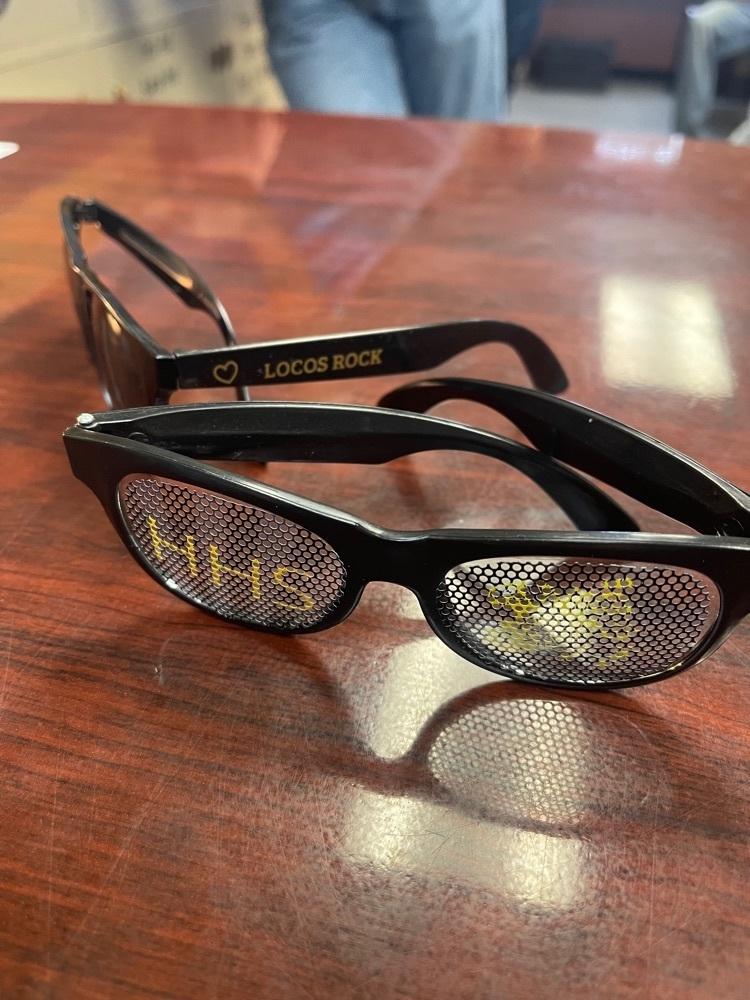 Mark your calendars for APRIL 16th and all of its happenings! 10am Community Easter Egg Hunt at the school 11am to 2pm the Junior Class will be holding a Chicken BBQ meal at the school. Tickets are on sale now for $8.00 each. The meal will include chicken, baked beans and chips. 4pm to ?? The HS Basketball teams will be hosting the Alumni games. Because it is the Basketball teams we will be playing basketball for both guys and gals. The fee to play is $5 and $1 for spectators (children/students are free). If you have any questions or concerns please call the school at 541-869-2204.